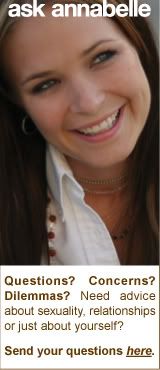 In 2005 I did a movie called Loving Annabelle. It's a love story between a teacher and student at an all girls catholic boarding school. When it was first released I began receiving hundreds of emails asking me for advice on various relationship, sexual topics and more sensitive matters like "How do I know if I'm gay?" "How do I tell my friends/family I'm gay?" As more and more of these letters came in I felt an obligation to respond somehow and that is when I began to brainstorm ideas of how I could offer positive assistance for these women. I felt an urge to react, and so that is when I came up with the idea for Ask Annabelle.
When putting together this site I knew that this would be a great place where I could turn the idea into a reality.
I hope you find help and comfort here and if nothing else, see that you are not alone. We all struggle with difficult circumstances and sometimes it's easier to gain the lesson by learning from others experiences.
LETTERS TO ANNABELLE
Every month I will pick 2 letters to post and comment on. All letters will be posted anonymously, with respect of your privacy. After the letters are chosen the therapist, and I will write our replies. I will then open a forum for your comments.
If you have questions, concerns, dilemmas with anything regarding sexuality, relationships, or just about yourself, please send your letter through the form below. When you send in your question please include your age and where you are from so we can better respond.
COMING OUT STORIES
I have created this porton of my site as a place to share and read your stories of coming out and the stories of women before you. Sometimes knowing that someone has gone through something before you makes the road a little less bumpy. If you would like to send in your story please email comingout@erinkellygirl.com